THE SPAS IN EMILIA ROMAGNA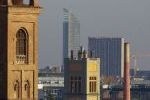 In the city of Bologna there are three spas have agreements with the national health service (S. N.), with INAIL and INPS for therapies that you run into them: the Felsinee Spa, Terme San Luca and San Petronio.

Felsinee Spa with water sulphur-bicarbonate-sulphate-calcium and suitable for inhalation therapy and rehabilitation. the baths also offer spa treatments and medical fitness in swimming pools, there are also surgeries and a gym.

Terme San Luca the thermal waters are bicarbonate-sulphate-calcium. In addition to rehabilitation treatments, there is the fitness center flanked by spa.

Terme San Petronio in Bologna historical centre, in via Irnerio, were built in 2011. To bring water to the surface are equipped with underground pipes 5 km long. The thermal water comes from the same source of Felsinee Spa and is calcium bicarbonate-sulphate-type: so this is an alkaline water, particularly suitable for drinking regime. In addition to care, you can take baths and all services offered by a modern spa.
THE SPAS IN EMILIA ROMAGNA
Notizie article by:
REDAZIONE, Pisa